Three Steps to Selecting the Right Outdoor Furniture for Your Needs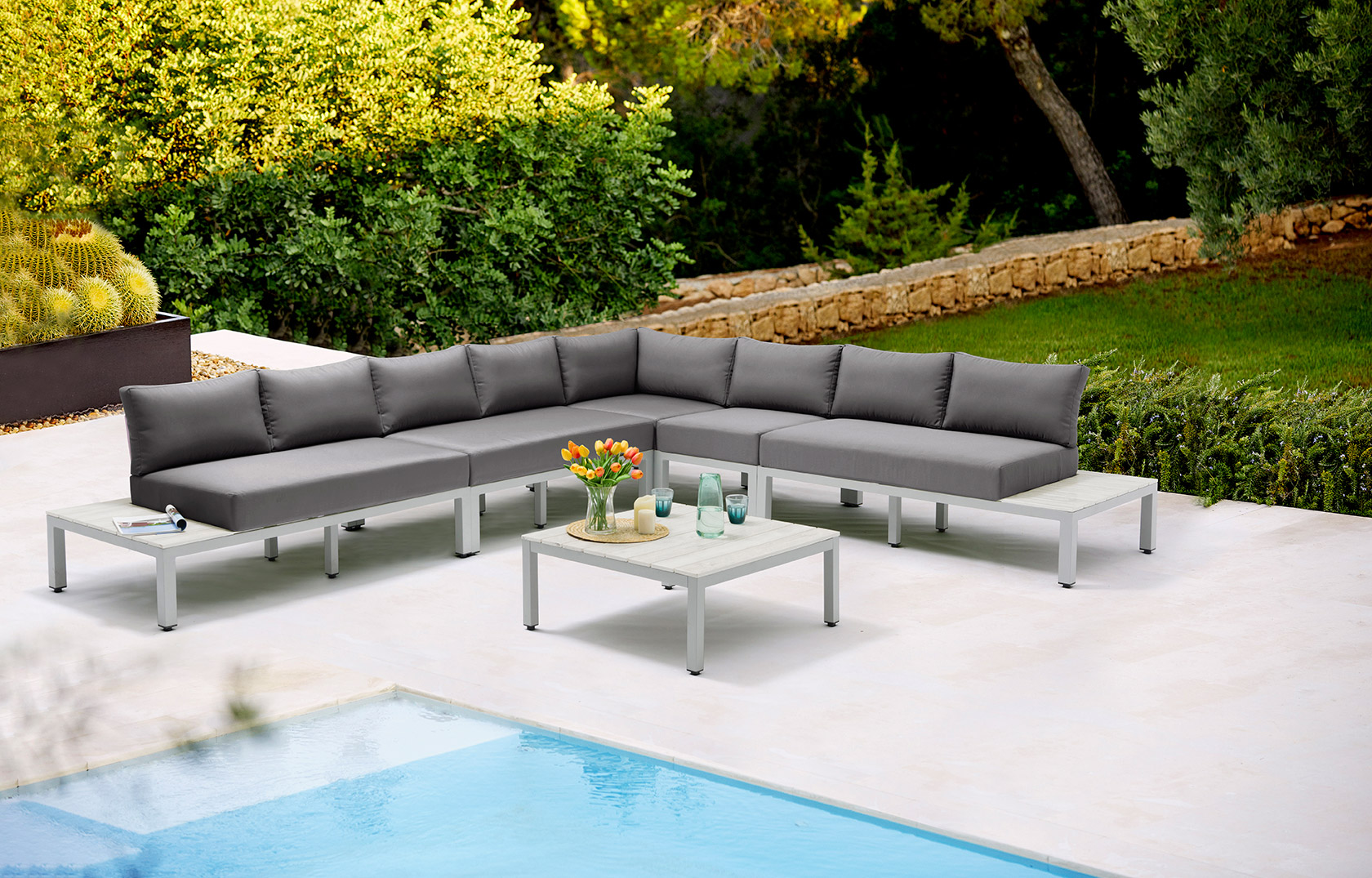 It's finally outdoor seating season, and this year outdoor seating at restaurants is in high demand! You might think picking outdoor sitting is a breeze, but there is more to it than first meets the eye. It could be overwhelming, but we've simplified it down to three quick and easy steps, so you can get to enjoying your outdoor furniture before winter comes, again!
1. Decide on Material
When deciding on the right materials for your outdoor furnishings, it is best to evaluate three factors: amount of care required, weather, and function. For example, our outdoor chairs and bar stools are built with lightweight, recycled aluminum frames, making them easy to care for, tough to wear out, and easy to move about for versatile indoor/outdoor use. Moreover, we manufacture all of our superior quality furniture with a commercial weight rating in order to hold up to heavier use than that of residential chairs and bar stools. Our furniture is built to withstand heavy, daily use, thereby preserving its beautiful appearance in your establishment while requiring little more than keeping it clean by tending to spills as they happen; truly the best quality at this price point.
Maintenance, Weather, Function
Each of our products is specially designed to withstand the rigors of temperature fluctuations, UV rays, rain, and wind. Consider seasonal weather conditions when picking outdoor furniture for your locale. You obviously want materials that will stand up to your local weather conditions.
Choose textilene mesh, aluminum, and synthetic wicker if you want materials that are lightweight, relatively inexpensive, rustproof, and require very little upkeep. In many cases, simply hosing the furniture down and wiping it off will be enough to get it looking clean and renewed. However, if needed, you can also wash these materials easily by lightly spraying with natural non-detergent soap water, rinsing, wiping and air-drying. In most environments, a thorough cleaning will be needed every two to three years.
Textilene mesh is formulated to withstand wear and tear for many seasons of outdoor use. This superior non-stretch mesh fabric is woven together with strong polyester yarns that are individually coated with PVC. This product is ideal for outdoor seating due to its elegance, strength, and durability while offering a laid-back appeal and comfortable seat and/or supportive back.
Our textiles designed for indoor/outdoor use are made from all-weather materials in our Rain or Shine collection which include stain repellent fabric treatments with unique acrylic backing that will not break down from exposure to the elements. Our Rain or Shine Fabric Collection is made of a combination of High UV Polyester and High UV Polyolefin giving these fabrics a comfortable and durable construction for your outdoor furnishings.
Aluminum is by far the most popular contemporary patio furniture material since it resists rust, moisture, and extreme temperature damage better than other metals. Some of our sturdy aluminum frame furniture comes in a rust free powder coated finish which offers added protection against the elements. Powder coating is an ideal method of decorating and protecting aluminum by achieving a high-quality, extremely durable finish that extends the life of the metal ensuring its continued aesthetic appeal for seasons to come.
Synthetic wicker, also known as all-weather wicker, is made of resin fiber weave wrapped over a metal frame making it resilient and resistant to weathering. In our case, we build our synthetic wicker furniture on aluminum frames such as our Aluminum Frame Black and White Synthetic Wicker Bar Stool. These products can withstand pouring rain or tolerate exposure to the sun's UV rays while maintaining their shape and color relatively easily. Synthetic wicker also lends a traditional, cozy feel to your outdoor area creating a perfect setting to meet and relax.
Considering that aluminum is also exceptionally weather-durable, the makeup of our synthetic wicker furniture is appropriate for varying kinds of weather.
synthetic wicker furniture is appropriate for varying kinds of weather.
If weather and wear-resistant synthetic wicker sounds like what you're looking for, check out our Modular Espresso Wicker Outdoor Lounge Set, Siena Outdoor Wicker Lounge Set, Aluminum Frame Black and White Synthetic Wicker Bar Stool and Chair once you've read through this blog. The sectionals and tables in these sets are made of a lightweight aluminum frames and cushions which can be customized with a wide variety of outdoor fabrics. Each piece of these sets can be bought individually and configured to match your space, design needs, and budget.
2. Consider Setting
Even though our products are specially designed to withstand the outdoor environment, keep in mind how exposed your patio or outdoor space to the elements and if you have any overhead covering. Think about the space; for a small space, a bar table set may work best because bar tables are narrower than dining tables, and stools take up less room than chairs.
Layout, Customers, Desire
Consider how your outdoor space is shaped and how much of the space is suited to accommodate furniture. Be mindful of how the furniture may need to be re-accommodated for special events or for outdoor entertainment, and apply the same principles for traffic flow that you use for indoor seating. Because the process of selecting the right seating layout is important and challenging due to an endless combination of possible seating layouts as well as factors such as the menu and dining style, we offer expert layout services for a flat fee; just ask us about it. So if you're short on time, overwhelmed, or just want an expert to map out your space, we would be happy to help you plan your layout and select the right furniture suited for your space and your customers.
Not all seating is created equal. Stop and really think about who your customers are. What kind of business do you have? Do you get a fair amount of older folks? Some patio chairs are built low to the ground where getting out of them can be quite uncomfortable, especially for older folks. Other seating may be too narrow or too deep for your target customers. Just keep who it's all for in mind, so you can rest assured your clients will be comfortable enough to linger and keep coming back.
Comfort is important -- desire is very important. Restaurants with outdoor seating offer something that people want, the outdoor dining experience. An evening celebration with friends, a leisurely lunch, or a romantic dinner are more appealing alfresco. Whether it's a rooftop terrace, an outdoor café, an outdoor bar on a second-story patio, or a table for six at a wine garden, restaurants with outdoor seating can transport their guests to another world by carefully selecting the details of the setting. For example, with a hand-finished charcoal-look aluminum frame and synthetic wicker-wrapped joints, our Powder Coated Charcoal Aluminum Frame Textilene Gray Mesh Seat and Back Barstool evokes the feel of a city, industrial setting It features the toughness of man-made materials that look like the real thing. An elegant curved back and ample seat constructed of textilene mesh round out and soften the look. Be mindful of where you want to transport your guests, and where it is they're looking to go. They're looking for an experience, give it to them through the details.
Integrate Concept
Coordinate your indoor space with the outdoors. Create flow.
Design, Theme, Mood
Your design should flow from indoor to outdoor by sticking to the same general color palette. For instance, if your indoor space is very dark, consider having darker-toned fabrics to create that sense of continuity. If you would like, you could always weave in grays, browns, and even some pops of color for fun. You can also do this by getting creative with mixing and matching patterns.
With our Rain or Shine fabric collection you can choose a fabric design to suit your particular concept or theme. For instance, you can encourage your guests to sit back and unwind with our new Miami Sectional Set. This set features beautiful light gray aluminum frames with white-wash synthetic wood trims to bring a comfortable yet elegant atmosphere to your indoor and outdoor areas. The foam cushions can be upholstered in more than twenty different fabrics from our Rain or Shine Collection adding to the ambiance you desire: intimate, festive, funky, bold, cool, refreshing, etc.
You can set the mood with the materials and style you choose. We manufacture a casual textilene chair and barstool that have a laid-back appeal with a rust-free and fade-resistant, lightweight recycled aluminum frame styled and hand-finished to look like bamboo. The Bamboo-look Aluminum Frame Textilene Mesh Seat and Back Chair and Barstool feature fully welded legs for strength wrapped with synthetic wicker at the joints for a handmade look.
In Sum
Patio décor has to be more than merely attractive; it has to withstand the elements and provide good value for your outdoor decorating dollar. You're off on the right foot. You've come to the right place. We carry an extensive selection of outdoor patio furniture, including chairs, bar stools, table tops, bases, and complete tables. Whether you're looking for commercial outdoor furniture for breezy waterside setting, a sunny, casual patio, or a private, fire lit terrace, we're confident we can exceed your expectations with our superior quality, superior pricing, and superior customer service. Ready to shop for superior style and superior quality at superior pricing? Browse our online store now!