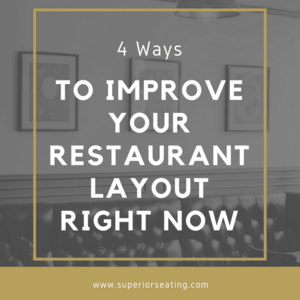 4 Ways to Improve Your Restaurant Layout Right Now
Running a restaurant isn't easy. Even when you think you've figured it out, you haven't. Like with any business, it's important to keep up with best practices and operations. Improvements can and must be made to increase profits while maintaining happy customers. If you've noticed slower growth and foot traffic, it might be time to take a look at your restaurant layout first.
Does your floor plan design still align with your business plan? For instance, quick-service eateries need open floor plans while fine-dining restaurants require intimate atmospheres. Have you kept up with the basics of restaurant design? If customers consistently ask for directions to the bathroom, the staff gets congested near the kitchen, or other choke points occur, it's time to make some navigation changes to your restaurant's design.
Layout improvements * Kitchen Make sure your staff has a clearly defined path to and from the kitchen. Easily moving around during peak times will make operations run smoothly while keeping customers happy. The best designed kitchens decrease the risk of chefs and cooks bumping into each other and offer a seamless line for waitresses to pick up food. There should be enough space to receive inventory, prepare food, and store without feeling cramped and unorganized.
Tables and chairs Efficiency and volume need to remain steady when thinking about restaurant floor plans. While we want as many tables as possible, we don't want to make people feel uncomfortably close. It's best to seat chairs 18 inches apart and tables 42 to 60 inches apart to maintain the customer experience. If you need to save space, don't hesitate to use benches, booths, deuce tables, and diagonal seating. Different seating options come with so many possibilities!

Seating sections Play around with different places to seat people. For instance, if you have an outdoor area, there's no better way to add some appeal during the warmer months than offering seating outside. Make sure you have the right permits and the right furniture. Then, if you're looking to provide some privacy for guests, banquet and booth seating surrounded by walls or dividers can create the right atmosphere. Even dedicating a special corner for a romantic, cozy experience can bring in the right crowd. In contrast, if you'd like to be the go-to for large parties, make sure you've got large tables that can be pushed together in a big open space.

Entryway Often overlooked, the entrance or foyer can capture the essence of your restaurant right from the beginning. Do something unique like add comfortable couches and large furniture so waiting customers can relax before their meal. This will enhance the experience not only for those waiting, but also for those already enjoying their meals. Creating a separate, comfortable area for waiting customers will showcase your restaurant's hospitality.
If you're starting to notice a few bottlenecks in your restaurant design, don't be afraid to experiment with new tactics. By simply addressing these points head on, you're showing a commitment to customers and the business as a whole. Quick layout fixes like table organization, spacing, navigation, seating areas, and new furniture could make a huge difference.
2019-08-22 19:37:19
776 viewed