Opening a new restaurant is challenging, and selecting the right seating layout is equally important. Our free seating guidelines can help you decide how to set up your restaurant. Contact our seating experts for assistance in planning your layout and selecting suitable furniture.
Wondering how to optimize seating for your dining establishment? Seating configurations are of paramount importance in the hospitality sector, setting the tone for guest comfort during their meal. The choice of table size, including popular dimensions like 5 ft (60"), 6 ft (72"), and 7 ft (84") tables, its design, and the designated space per diner can influence the overall dining atmosphere. This guide offers insights into the preferred seating capacities for various table sizes and shapes. Whether you're designing a quaint cafe or a large banquet hall, our suggestions will help you make the most of your space and create a warm, inviting setting for patrons.
Chair & Table Spacing Tips & Suggestions
14 sq. ft per person for spacious dining (allows for a table, chair, and aisle)
12 sq. ft per person for cafeteria or restaurant-style seating
10 sq. ft per person for banquet, institutional, or close seating
Allow 18 inches for the person seated from the edge of the table to the back of the chair
Diagonal seating saves floor space
Duece tables and wall spacing save the most space
Min. 42 " between squared tables for chairs back to back leaves 6 " to push out.
Min. 60 " between squared tables for chairs back to back leaves 26 " service out
Min. 54" between round tables service space. Main traffic aisles need to be larger
24 " between corners of diagonal tables for customer access - no aisle
30 " between corners of diagonal tables for customer access - narrow aisle
Where space is limited, booths require only 8 sq. ft. per person including an aisle allowance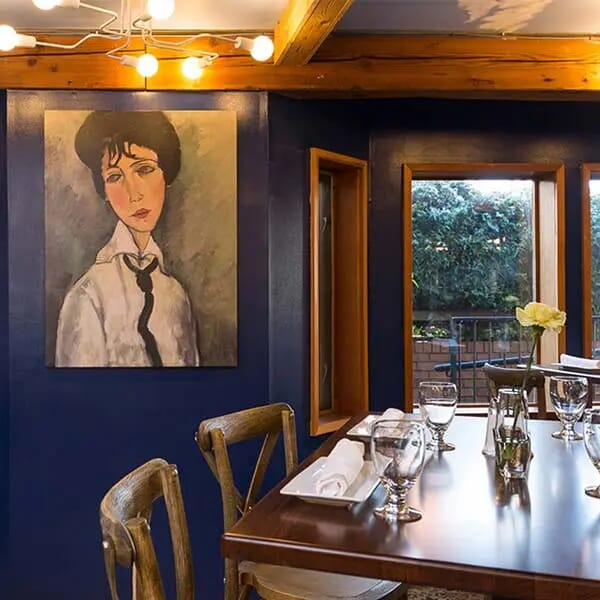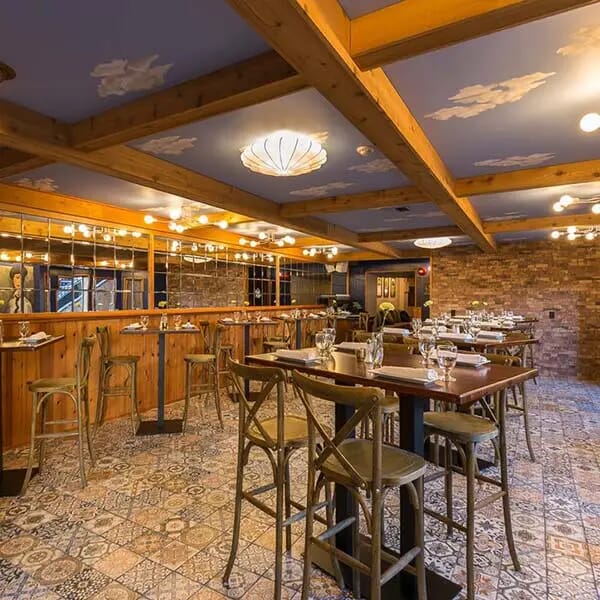 Determining Adequate Table Size
The recommended industry standard for sufficient table space is 300 square inches per diner. For instance, in the case of fast food and standard cafe dining, an average table dimension of 30" X 42" would result in an area of 1260 square inches. By dividing this number by those above 300 square inches per diner, it can be inferred that such a table would comfortably accommodate four individuals.
However, it is important to consider other factors when determining the appropriate table size, such as the specific menu and dining style. Certain menus may require additional space to accommodate more utensils, plates, and service items. Likewise, the use of cafeteria trays or the nature of family-style or ethnic dining, such as Mexican or Asian cuisine, necessitates room for multiple plates. The size of the tables plays a critical role in ensuring that customers have a pleasant and comfortable dining experience, as inadequately sized tables may result in negative reviews and discourage patronage.
As a restaurant owner or manager, your objective is to provide seating and table space that can accommodate most customers without overcrowding the room. Additionally, a well-thought-out combination of table sizes can reduce wait times for diners. It is crucial to consider the flow of foot traffic, as congestion in high-traffic areas can lead to increased noise levels, accidents, and overall slower turnover. To assist you in the design process, we have included several examples of seating layouts below as a starting point.
Design Layout Ideas for Cafes, Bars and Restaurants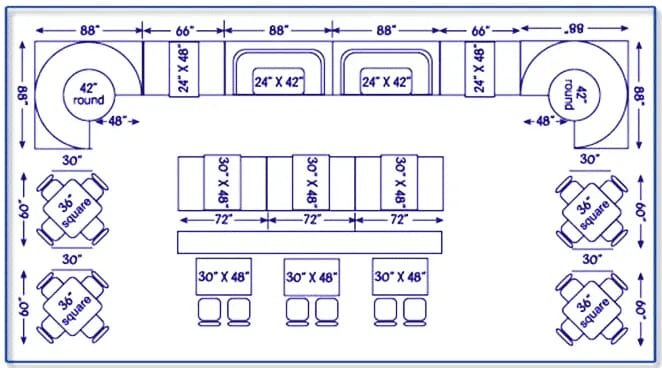 Design Layout 1: 2 x Round Corner Booths, 2 x Half Round Booths, 5 x Regular Booths, 4 x Square Tables, 3 x Combo Tables w/ Booth
Total Restaurant Capacity: About 56 seats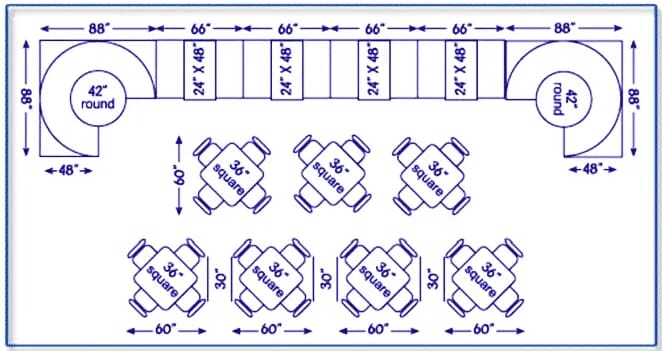 Design Layout 2: 1 x Round Corner Booth, 1 x Square Corner Booth, 1 x Half Square Booth, 7 x Regular booths, 5
x Square Tables, 3 x Couple's Tables
Total Restaurant Capacity: About 66 seats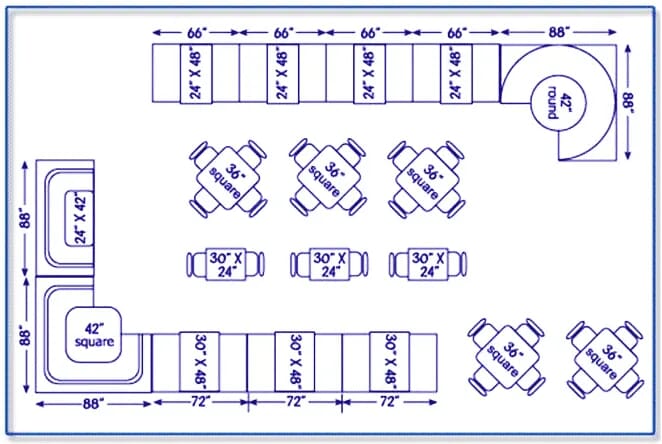 Design Layout 3: 2 x Round Booths, 4 x Regular Booths, 7 x Square Tables
Total Restaurant Capacity: About 52 seats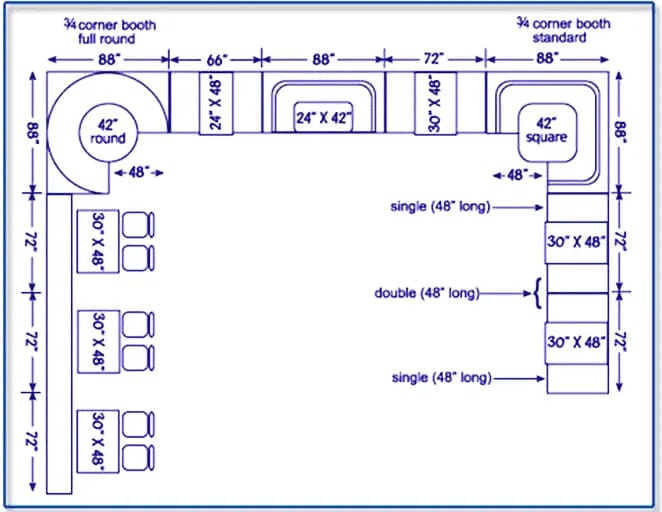 Design Layout 4: 1 x Corner Round Booth, 1 x Corner Square Booth, 1 x Half Square Booth, 4x Regular
Booths, 3 x Combo Tables w/ Booth
Total Restaurant Capacity: About 40 seats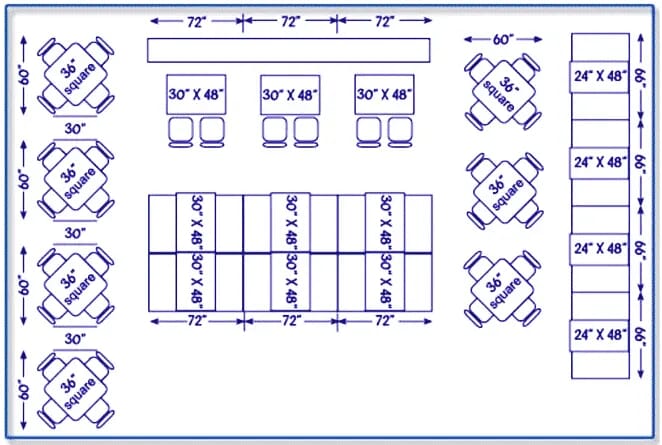 Design Layout 5: 7 x Square Tables, 10 x Regular Booths, 3 x Combo Tables w/ Booth
Total Restaurant Capacity: About 80 seats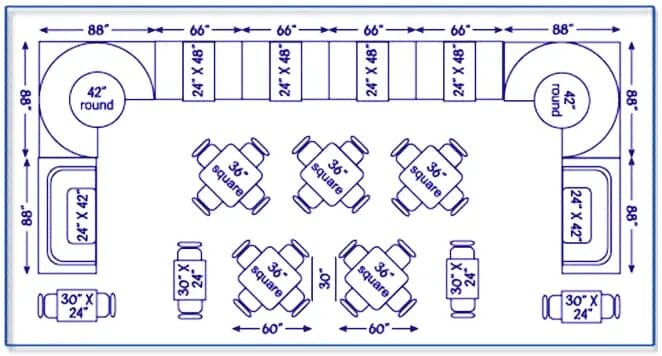 Design Layout 6: 2 x Corner Round Booths, 2 x Half Square Booths, 4 x Regular Booths, 5 x Square
Tables, 4x Couple's Tables
Total Restaurant Capacity: About 60 seats