 Halloween presents a unique chance to infuse some magic and mystery into your restaurant's atmosphere. Here are 10 enchanting ideas to elevate the dining experience without giving your customers the creeps.
1. Enchanting Entrance
Set the tone right from the entrance with friendly pumpkins, autumn leaves, and magical fairy lights.
Materials Needed:
Pumpkins or faux pumpkins
Autumn leaves (real or faux)
Fairy lights
Steps:
Place pumpkins near the entrance or along the walkway.
Scatter autumn leaves around for a seasonal touch.
Use fairy lights above the entrance or wrapped around nearby foliage for a warm, welcoming glow.
2. Magical Bar Area
Turn your bar into a wizard's lab with colored liquids in clear jars, and a menu of mysterious Halloween-themed cocktails.
Materials Needed:
Colored water or juices in clear jars
Halloween-themed cocktail signs
Steps:
Arrange jars filled with 'potions' on the bar.
Display Halloween cocktail signs with imaginative names like "Witch's Elixir" or "Goblin Goblet."
3. Floating Candles
Create an ethereal atmosphere with faux floating candles suspended from the ceiling.
Materials Needed:
Battery-operated LED candles
Fishing line
Transparent hooks
Steps:
Attach fishing line to each LED candle.
Suspend them from the ceiling at different heights using transparent hooks.
4. Autumnal Dining Area
Incorporate autumn colors like orange, yellow, and brown for your table settings to give the dining area a warm, festive feel.
Materials Needed:
Orange, yellow, and brown tablecloths or placemats
Autumn leaves or mini pumpkins as centerpieces
Steps:
Use tablecloths or placemats in autumnal hues.
Place mini pumpkins or autumn leaves as centerpieces.
5. Themed Menu Boards
Revamp your menu boards to fit the Halloween spirit using seasonal colors and playful fonts.
Materials Needed:
Chalkboard or digital display
Orange and black chalk or markers
Steps:
Rewrite the menu using Halloween-inspired fonts.
Use playful Halloween icons like pumpkins, black cats, or candy corn to add some flair.
6. Whimsical Playlist
Compile a playlist of light-hearted, Halloween-inspired tunes that maintain a cozy dining atmosphere.
Materials Needed:
Halloween playlist
Sound system
Steps:
Create a playlist that blends well with the restaurant setting, focusing on more whimsical tunes.
Play the playlist at a comfortable volume throughout the restaurant.
7. Seasonal Serveware
Swap out your regular serveware for items that have a Halloween flair, such as orange or black plates, or themed straws.
Materials Needed:
Seasonal serveware
Optional: Halloween-themed straws or napkins
Steps:
Replace your current serveware with seasonally appropriate items.
Optionally, include themed straws or napkins for a fun touch.
8. Festive Staff Accessories
Invite staff to wear fun but functional Halloween accessories to contribute to the festive atmosphere.
Materials Needed:
Halloween-themed accessories like pins, headbands, or scarves
Steps:
Ensure the accessories are appropriate for the work environment.
Encourage staff to incorporate them into their uniforms for the day.
9. Family-Friendly Photo Corner
Designate a corner for fun, family-friendly photos with Halloween props.
Materials Needed:
Backdrop
Fun props like wizard hats, broomsticks, or oversized candy
Steps:
Install a backdrop in a corner of the restaurant.
Offer a selection of props for guests to use in their photo ops.
10. Halloween Specials Menu
Roll out a limited-time menu featuring seasonal ingredients, and promote these special offerings on social media.
Materials Needed:
Special ingredients for new dishes or drinks
Menu cards or table tents
Social media for promotion
Steps:
Create unique dishes or drinks using seasonal ingredients like pumpkin or apple.
Print menu cards or table tents to inform customers about these special offerings.
Use social media platforms to create buzz and attract more patrons.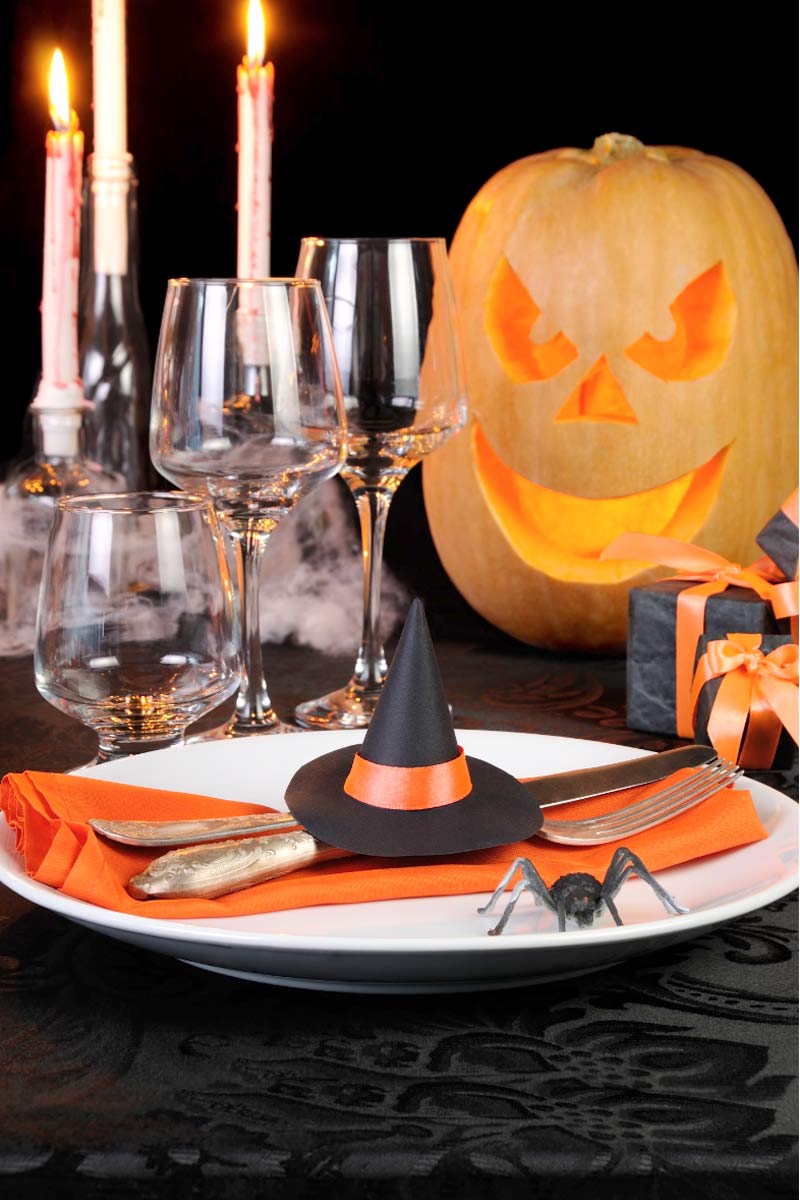 Where To Buy Halloween Decorations?
If you're looking for stores that specialize primarily in decorations or crafting supplies, consider the following:
Party City
Oriental Trading
Michaels
Hobby Lobby
Spirit Halloween
Halloween Express
By implementing these ideas, you're sure to create a charming and magical Halloween experience that complements the ambiance of your restaurant. Always remember that while decorations should enhance the atmosphere, they should never detract from the quality of service or food. Happy decorating!
2023-09-08 14:23:00
28 viewed