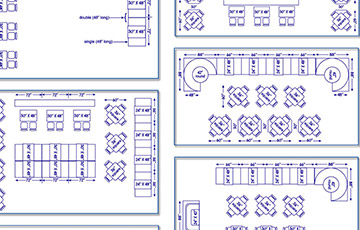 Seating Layout Best Practices For Commercial Spaces
Opening a new restaurant is exciting. You get to choose the style, the menu, the décor, and everything else that goes into creating a wonderful dining experience for your customers. One of the most important aspects of a restaurant is the seating layout. There is a lot to consider when you are planning your layout. You need to think about not only the comfort of your guests but the effect the seating arrangement will have on your servers and wait staff as well.
Here we will look at three major areas of a restaurant: the dining room, the bar area, and the outdoor space and give you some helpful tips on how to best configure your seating.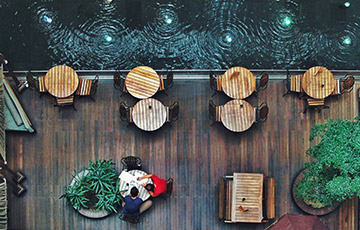 Dining Room Seating Layout
Your dining room is the main hub of your restaurant. You want it to be comfortable and fit the style you are looking for. Before you get started, you need to answer two major questions:
What kind of atmosphere do you want to create for your customers?
What kind of service will you have?
The answers to these questions will dictate some general principles around your seating layout. Here are some general tips and best practices to help with your seating layout for different atmospheres and service needs.

Your atmosphere will help determine the sizes and types of tables you should buy. If you are looking to create a cozy and intimate dining experience, you can opt for smaller tables and less space between the tables and chairs. For this setup, you can allocate approximately ten to twelve square feet per diner. You may also want to choose smaller, 2 and 4 top tables. Both the smaller square and rectangle table tops work great for this type of atmosphere. Utilizing small tables like these will help create a cozier ambiance by encouraging smaller parties and more private conversation. They will also help to maximize space in smaller restaurants.

For a more open, family-style atmosphere you need to reserve at least 12 – 14 square feet per diner and use larger tables with more seats. Here you can utilize larger rectangle, square, or even round tables to create seating areas for 4 – 8+ people. By accommodating larger parties, you will create a slightly noisier, more family-friendly ambiance where people feel comfortable coming with larger parties.

The type of service you plan on having will also help dictate the spacing between the tables and chairs. Whether you have table service, counter service, or take-out options, you must decide how much room you to reserve. A general rule of thumb is that you want to have at least 42" – 60" between chair backs for people to push out. The more traffic you will have between the chairs, the more space you'll need. You also need at least 24" – 30" minimum between corners of tables placed diagonally to allow for customers to access their table.

Bar Seating Layout

The bar area is very important for any restaurant. In some, it is the main draw, in others, it is the first place people stop by when they come into the restaurant. No matter the function of your bar, you want it set up in an appealing way that will accommodate people both sitting and standing. For the rail of your bar, you want should have barstools about every 2 feet and, in total, you want to have at least 4 feet from the bar to accommodate the stools and guests standing behind. This will give you a well laid out bar area that can comfortably fit your patrons on even the busiest nights.

Depending on how large your bar area is, you may have tables and chairs in that space as well. You want people who are not sitting to be able to move around comfortably, so you should have at least as much space between tables and chairs in your bar as in your dining room, if not more. This is also a great area to make use of flexible, vertical space with hi-top or bar height tables.


Indoor vs. Outdoor

Seating Arrangements Outdoor seating is a great way to add additional capacity and take advantage of the warmer months of the year. The layout in this area will be dictated by the amount of space you have and by the same principles as the dining room. What you need to consider when dealing with outdoor vs indoor seating are the materials the furniture is made of. With indoor seating: wood or metal chairs work best, while with outdoor seating, you need to take into consideration the product's resistance to outdoor weather conditions. Aluminum, wicker or synthetic wood products are your best options in those conditions. Our commercial products are made to resist high temperatures, rain, rust and heavy usage in commercial spaces.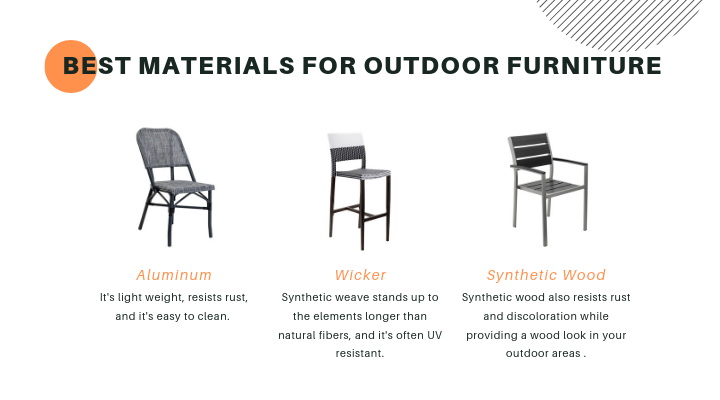 Additional Tips


At the end of the day, it is your restaurant and there is no truly right or wrong way to set up your seating. You can follow all the tips and tricks in the world, but you want to end up with a seating layout that looks and feels good for you.
Your tables and seats are not bolted to the floor. This is to say that once you settle on a seating arrangement, it does not have to be set in stone and remain that way forever. Everything about owning a restaurant is a process and a learning experience. If you get high-quality and versatile tables and chairs, you can try a few different formations over time and see which ones work best for you.
As you can see, there is a lot that goes into setting up the seating at your restaurant. The most important piece though is getting the right type of seating for your space and making sure it is both functional and fits your restaurant's design and ambiance. Check out all the options available to you at Superior Seating to get the right restaurant seating for you. In addition to the wide array of table and chair options, Superior Seating also offers layout consulting services. We take your ideas, space and design requirements and create a customized seating layout just for you.
2019-07-30 21:07:00
2424 viewed