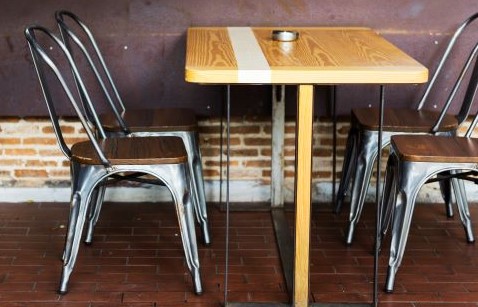 Strengthen Your Restaurant Decor Using Furniture With Stylish Metal Legs
Adding furnishings using strong steel frames will enhance your decorating options in some surprising ways. Plus, the beauty of polished metal surfaces offers some very practical health and safety benefits.
Enjoy The Cachet of Metal
Today entrepreneurs seeking to furnish restaurants of every variety frequently select furniture utilizing attractive metal components. In the past, iron or steel tables, bar stools, and chairs sometimes appeared depressingly bland and uniform. A manufacturing revolution during the past 25 years has dramatically changed this situation!
Now metal chair and table legs will suit virtually every conceivable decor. These products, available in many colors and styles, change the ambiance of restaurants serving complete three course meals. They'll also enhance the appearances of chic clubs, super fast food eateries and juice bars!
What happened? During former eras, steel-framed furniture frequently employed dull metal grays. Yet modern manufacturers increasingly invest in shiny, brightly polished components. Add the luster of chrome finishing to the remarkable diversity of powder coating technologies, and you'll appreciate the staggering variety of options awaiting anyone purchasing tables and chairs with metal legs today. Many metal furniture brands in fact demonstrate exceptional beauty!
Why Adding a Metallic Furniture Component Enhances Decor Goals
Human beings (including restaurant customers) frequently behave in predictable ways. For example, bright, reflective objects usually capture someone's attention more effectively than bland, dull ones. Although subtle, replacing wooden table legs and chair legs with metal components significantly impacts the first impression furniture makes on visitors. If you'd like to lighten and brighten a room, for example, consider installing more windows and infusing polished chrome furniture legs and lighter wood stains into the decorating scheme.
Most furniture designers certainly appreciate the visual qualities of their products. Minimalist themes have gained popularity in many places around the world due to the impact of simple, crisp lines and clean, classic contours. If you need to renovate a restaurant decor attractively today, you enjoy an impressive selection of basic, yet beautiful, furniture items equipped with metal frameworks. Consider employing some of these exceptionally strong, well-made products. You'll help create a fashionable setting for dining, while also contributing visual appeal.
Three Practical Benefits of Using Metal
Of course, in addition to its aesthetic properties, metal as a component of fine restaurant furniture offers at least three utilitarian benefits. These advantages may even supercede the importance of maintaining a current, trendy decor! When evaluating metal legs for restaurant furniture, don't forget these key selling points:
One: Strength
As you know, restaurant furniture typically receives hard use. During the course of any given week, a chair or a table or a booth must accommodate a wide variety of customers. While most patrons treat restaurant furnishings respectfully, from time to time, some individuals will slam a tabletop, scrape chairs across the floor, or tip back in a chair and rock, apply pressure to furniture legs unevenly.
No business can afford to supply furniture to its customers which cannot withstand these types of abuses. A broken chair leg or table leg creates embarrassment. It may result in serious physical injuries, too. One big advantage of restaurant furniture relying upon solid metal frameworks (and metal legs) relates to the superior strength of steel. This material simply won't break as readily as wood in most situations. It offers better support for heavy customers for this reason.
Two: Stackability
In addition to the superior strength of furniture utilizing metal support structures, the stackability of these items may enter into a manager's purchasing decision. Many restaurants (including most fast food outlets) close during at least a portion of every 24 hour period. Custodial crews frequently remove and stack chairs while performing floor cleaning operations during these scheduled "down times". Chairs using strong metal frameworks assist this effort.
Metal legs for restaurant furniture offer immense utility because manufacturers can design these components to stack conveniently. Most chairs with wooden legs simply do not stack as well. The ability to stack and relocate restaurant chairs or bar stools conveniently on demand offers value. It facilitates the rapid addition of extra seating during peak business hours, allowing a restaurant to seat more customers on short notice.
Three: Ease of Maintenance
Finally, metal legs for restaurant furniture supply yet a third practical advantage: these components permit seamless maintenance. Restaurant managers must anticipate spills and stains marring furniture surfaces during the course of business. A patron may knock over a beverage or splatter food onto furniture legs. If employees need to quickly completely clean a chair or a table during the course of a busy day without expending a lot of time on this assignment, they appreciate metal support surfaces.
Cleaning agents (including water) may actually harm wood or wood laminates. By contrast, metal legs tolerate rapid cleanup operations. They facilitate fast complete-table and chair cleanup procedures, allowing the restaurant to provide customers with sparkling clean accommodations quickly. This process translates into reduced customer waiting times, enhanced restaurant goodwill and, ultimately, more revenue.
Appreciate The Complete Benefits of Metal Legs
Both aesthetic and utilitarian reasons prompt managers to refurbish restaurants using furniture with solid metal frameworks and legs. These stylish products offer the convenience of greater strength, improved stackability, and easier maintenance. They supply impressive value!
2019-08-25 13:33:00
863 viewed