Ophelia Oval Flex Back Stacking Aluminum Banquet Chair
Product Description
Ophelia Banquet Chair Features
1

10 Year Warranty

Backed by a 10-year warranty, our chairs offer a decade of assurance, emphasizing longevity and reliability for your seating needs.

2

Stacks 10 High

Streamline your storage with chairs that effortlessly stack 10 high, providing a space-saving solution without compromising on convenience or style.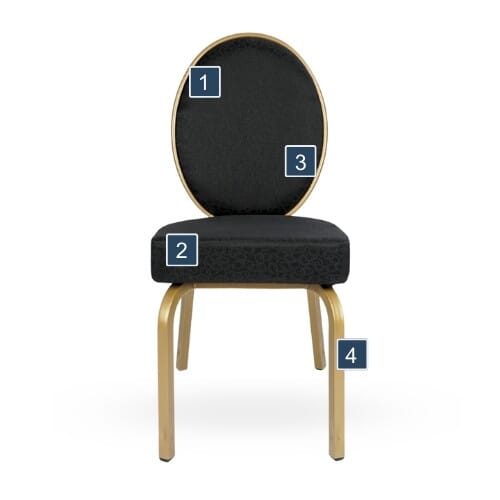 3

Cal 117 Fire Safety Rating

Prioritize safety with chairs boasting a Cal 117 Fire Safety Rating, ensuring a secure environment for your guests in any setting.

4

Fully Welded 12 Gauge Aluminum Frame

Engineered for strength, the fully welded 12-gauge aluminum frame in our chairs guarantees robust support, making them a durable and dependable choice for all your seating requirements.
Ophelia Overview
Visualize a grand banquet in a beautiful hall, adorned with oval back chairs.

These aluminum banquet chairs are both stylish and durable, thanks to their fully welded 12-gauge aluminum frame. Whether hosting elite guests or a community gathering, these chairs stand as a testament to comfort. Backed by a 10-year warranty, they're a timeless choice. Enhance your event with these commercial-grade chairs, well-suited for banquet halls and wedding venues. They offer both durability and style, ensuring your guests have a comfortable seating experience. Exceptionally strong and reliable, you can trust these chairs to provide unwavering support. Furthermore, their stackable design simplifies storage and facilitates transportation, allowing stacking in sets of 10. To elevate the ambiance of your event, a wide array of custom fabric options is available, ensuring these chairs seamlessly integrate into your chosen theme.
Custom Fabric Requirements
You didn't find material that would fit your banquet hall? Our company offers the option of COM (Customer's Own Material) in our chair production, enabling clients to select their own materials to create chairs that perfectly align with their unique preferences.
| Product | Seat Total | Back Total | Total Yards |
| --- | --- | --- | --- |
| Ophelia Banquet Chair | 0.4 yards | 0.7 yards | 1.1 yards |
Specifications
Specifications

| | |
| --- | --- |
| Pre-order | No |
| Flex-back | Yes |
| Frame Material | Aluminum |
| Usage | Indoor |
| Stackable | Yes |
| Stacks High | 10 |
| Weight | 16.0000 |
| Height | 36.5 Inches |
| Width | 16.5 Inches |
| Depth | 23.5 Inches |
Specifications

| | |
| --- | --- |
| Seat Height | 18 |
| Seat Depth | 16 Inches |
| Seat Width | 16 Inches |
| Weight Capacity (approx.) | 400 Pounds |