Tatum Flex Back Stacking Aluminum Banquet Chair
Product Description
Tatum Banquet Chair Features
1

10 Year Warranty

Industry-leading 10-year warranty, providing you with peace of mind and assurance in the durability and quality of your investment for a decade of reliable use.

2

Stacks 10 High

Designed for space efficiency, our chairs effortlessly stack 10 high, allowing you to maximize storage and streamline setup.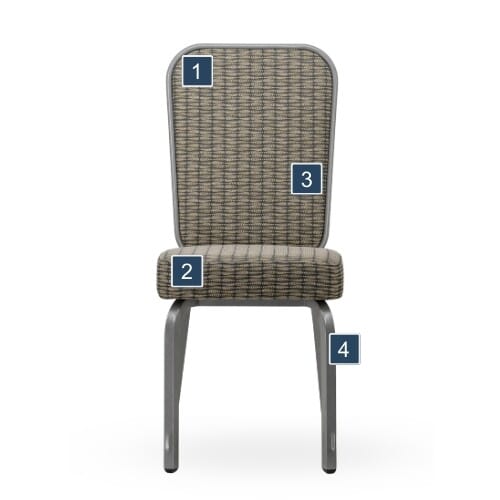 3

Cal 117 Fire Safety Rating

Equipped with a Cal 117 Fire Safety Rating, ensuring compliance with rigorous fire safety standards and providing a secure seating option for your events.

4

Fully Welded 12 Gauge Aluminum Frame

Featuring a fully welded 12-gauge aluminum frame, our chairs combine robust construction with a sleek design, offering not only durability but also a modern aesthetic that enhances the ambiance of any banquet or event space.
Tatum Overview
Let me transport you to a contemporary venue, where the atmosphere is chic, and the centerpiece of this elegant setting is a collection of square-backed banquet chairs.

These chairs are more than just furniture; they're a story of durability and style. Crafted with a robust aluminum frame that's welded together, these chairs are built to endure. What's the guarantee of quality? A solid 10-year warranty. That's a decade of assurance that these chairs will stand the test of time. Imagine the memories they'll be a part of in that time. In the grand ballrooms, these chairs take their place, commanding attention with their blend of strength and sophistication. From extravagant banquets to intimate gatherings, they provide comfort to all who grace them. Exceptionally sturdy and reliable, they're not just beautiful; they're dependable too. And when the event is over, their stackable design makes storage a breeze. Stack them neatly in sets of 10, and you're ready for the next occasion. To make these chairs truly yours, a diverse range of fabric options awaits. Choose one that complements your theme, and watch as these chairs seamlessly become a part of your event's narrative. So, here's the story – these banquet chairs aren't just pieces of furniture. They're the reliable companions of your journey through countless events, making each one a memorable chapter. Your event deserves nothing less.
Custom Fabric Requirements
You didn't find material that would fit your banquet hall? Our company offers the option of COM (Customer's Own Material) in our chair production, enabling clients to select their own materials to create chairs that perfectly align with their unique preferences.
| Product | Seat Total | Back Total | Total Yards |
| --- | --- | --- | --- |
| Tatum Banquet Chair | 0.4 yards | 0.7 yards | 1.1 yards |
Specifications
Specifications

| | |
| --- | --- |
| Pre-order | No |
| Flex-back | Yes |
| Frame Material | Aluminum |
| Usage | Indoor |
| Stackable | Yes |
| Stacks High | 10 |
| Weight | 16.0000 |
| Height | 36.5 Inches |
| Width | 16.5 Inches |
| Depth | 23.5 Inches |
Specifications

| | |
| --- | --- |
| Seat Height | 18 |
| Seat Depth | 16 Inches |
| Seat Width | 16 Inches |
| Weight Capacity (approx.) | 400 Pounds |