Dining Hall at St. Joseph By The Sea High School - Furniture Case Study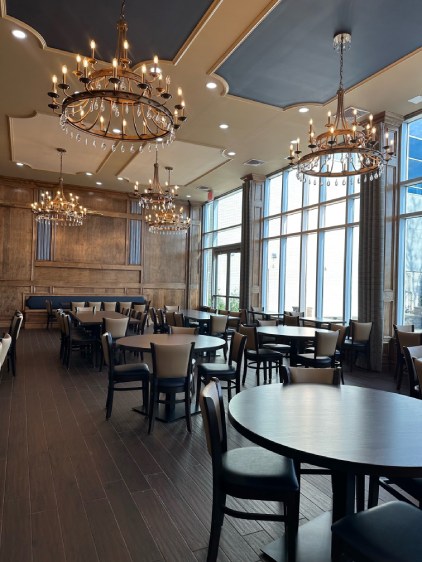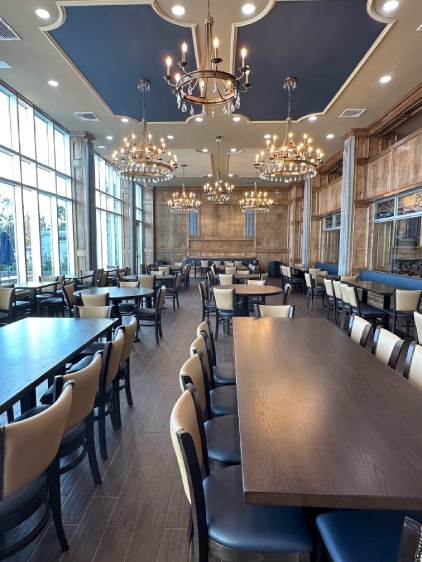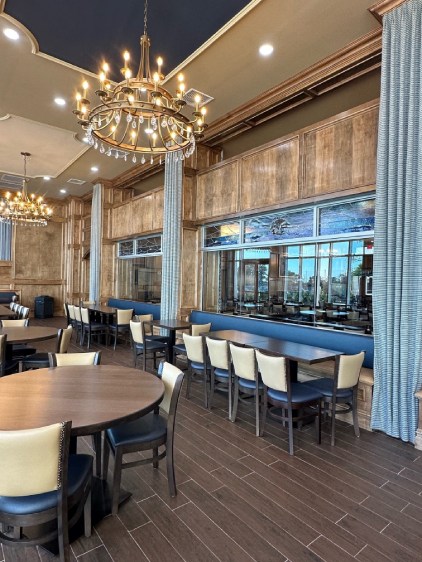 Project details:
Address: 5150 Hylan Blvd, Staten Island, NY 10312
Venue type: Dining Hall (Inside of Private School)
Setting: Indoor
Cuisine: American
Restaurant design style: Traditional, Contemporary
Design by: Interiors by Sabrina (www.instagram.com/interiorsbysabrina)
About Dining Hall in St. Joseph By The Sea High School:
The furniture pieces used in the dining hall of St. Joseph by the Sea private school contribute to the sophisticated atmosphere of the space. The fully upholstered side chairs with nailhead trim in brass are a statement of luxury and comfort. The choice of upholstery in contrasting colors—buff for the back and admiral blue for the seat—not only adds visual interest but also offers a customized touch that can resonate with the school's colors or aesthetic preferences. The brass nailhead trim provides a classic detail that borders the modern silhouette of the chairs, bridging traditional and contemporary styles.
Complementing the chairs, the custom solid oak plank dining tables anchor the room with their substantial presence and natural beauty. Oak is a durable material, well-suited to the demands of a bustling school environment, and the plank style of the top adds a rustic yet refined element to the hall. The solid construction and custom design of these tables shows a commitment to quality and craftsmanship, reflecting the school's values of excellence and attention to detail. Together, these furniture choices create an inviting space that is both elegant and practical, suitable for daily use by students and staff alike.
Color palette: Light Brownish Yellow, Admiral Blue, Walnut

Restaurant furniture used in this project:
Are you planning a dining area for your school or college? Our team has a lot of experience in making furniture that looks good and works great for places like these. We make custom chairs, tables, and booths and have helped many schools and colleges already. We know how to design spaces that are useful and look nice. We'll help you from the first sketch to the finished place. Work with us, use our experience in making great school furniture, and see your dining space come to life.